Children's Choir
We kicked off our choir programme with a 4-week mini session for the Children's Choir in November-December 2018. In the new year, we will be running a full session for the Children's Choir and adding a Youth Choir.
Here is some information about the Children's Choir fall mini-session, as published on the Thunder Bay Children's Choir Facebook group:
Have fun with friends, learn some tunes, and work on your vocal technique! Ages 6-12.
Rehearsals are Wednesday evenings 6-7:30 pm at Trinity United Church. Email tbconmus@gmail.com to register.
Check out the director's bio on our Facebook group, as well.
Spring Session: Runs January 16 - April 24.
Sign up now! $200 registration.
Click the thumbnail image below to view brochure.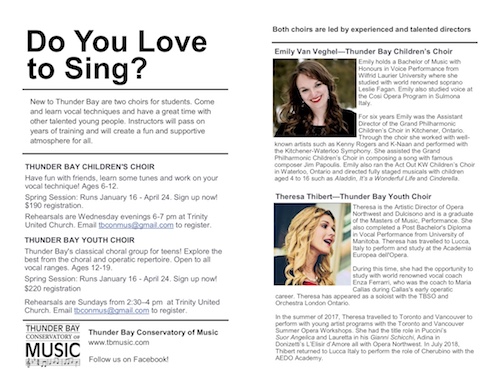 Interested? Want more information? Please contact us at tbconmus@gmail.com.