A Song Rings Out
Lost Composers of the Holocaust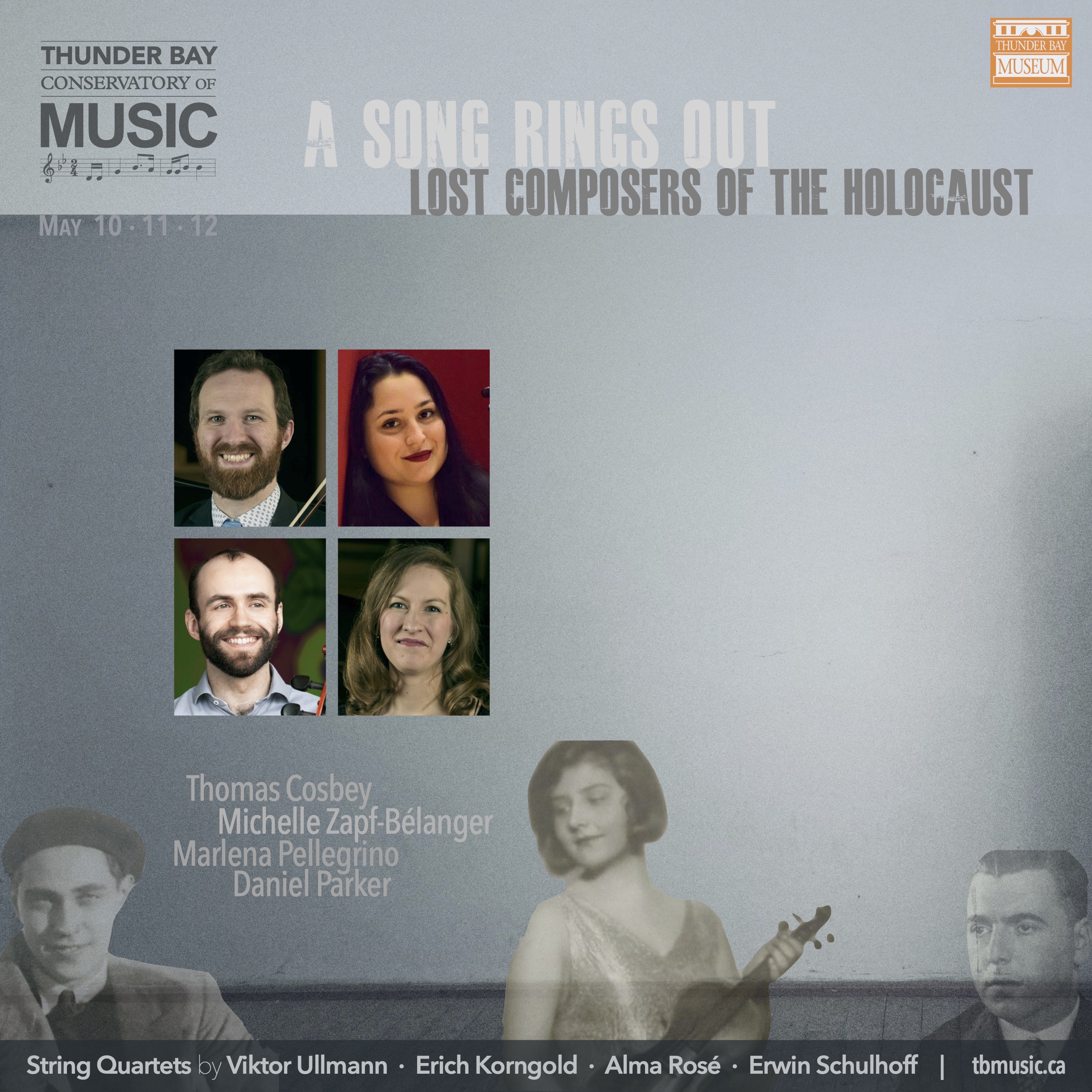 Buy Tickets
Performances
May 10, 11, & 12 — 2022, at 7:00pm
Thunder Bay Museum
Europe's rich musical culture was changed forever by the deaths and persecution of a whole generation of Jewish composers during the Nazi occupation. Join us as we tell some of their stories, and bring their voices alive through their music.
Eich Wolfgang Korngold (1897-1957)
String Quartet No. 2, Op. 26 (1933)
Erwin Schulhoff (1894-1942)
String Quartet No. 1 (1925)
Alma Rosé (1906-1944) / Frédéric Chopin (1810-1849)
In mir klingt ein Lied (A song rings out within me)
Viktor Ullmann (1898-1944)
String Quartet No. 3 (1943)
Of these musicians, only Erich Korngold escaped the Nazi death camps. A prominent Austrian composer, he won an Oscar for a film score in 1937, and was asked to move temporarily to Los Angeles to compose the score for the new Robin Hood movie starring Errol Flynn. The move saved his life. Only a month later, the Nazis annexed Austria, confiscating his home in Vienna.
Czech composer Erwin Schulhoff was a protogé of Dvorak and Debussy, among others, and was enjoying a skyrocketing composing career in the 1920s when his Jewish faith and progressive politics began to create obstacles for him. He was arrested and deported to Wulzberg prison camp, where he died in 1942.
Alma Rosé, an accomplished violinist and member of prominent musical Rosé family, became the conductor of the Women's Orchestra of Auschwitz, a group of the orchestral players in the women's camp, who were forced to perform weekly concerts for the SS. She had them perform In mir klingt ein Lied as an act of resistance.
Viktor Ullmann was deported to the Theresienstadt ghetto in 1942 and, in the two years he was imprisoned there, composed over 20 works, including an opera. He was gassed in Auschwitz in 1944.
Performers:
Thomas Cosbey, violin
Michelle Zapf-Belanger, violin
Marlena Pellegrino, viola
Daniel Parker, cello
Tickets $30
$25 for Members of the Thunder Bay Museum
Buy Tickets